Intercultural Development Inventory®
Intercultural Competence can be assessed at the individual, team and corporate levels, This is accomplished through the administration of the Intercultural Development Inventory® (IDI®). The IDI assessment tool, is a 50-item questionnaire, available online that can be completed in 15–20 minutes. After taking the IDI, each group or participant will receive a 45-50 debriefing session by your Qualified Administrator, Dr. Amy Narishkin.
The Intercultural Development Inventory®  has been psychometrically tested and found to possess strong validity and reliability across diverse cultural groups (click here for IDI validity overview results). This validity includes predictive validity within both the corporate and educational sectors. The IDI has been rigorously tested and has cross-cultural generalizability, both internationally and with domestic diversity.
The Intercultural Development Continuum
The Intercultural Development Continuum® (IDC TM®) describes a set of knowledge/attitude/skill sets or orientations toward cultural difference and commonality that are arrayed along a continuum from the more monocultural mindsets of Denial and Polarization through the transitional orientation of Minimization to the intercultural or global mindsets of Acceptance and Adaptation. The capability of deeply shifting cultural perspective and bridging behavior across cultural differences is most fully achieved when one maintains an Adaptation perspective.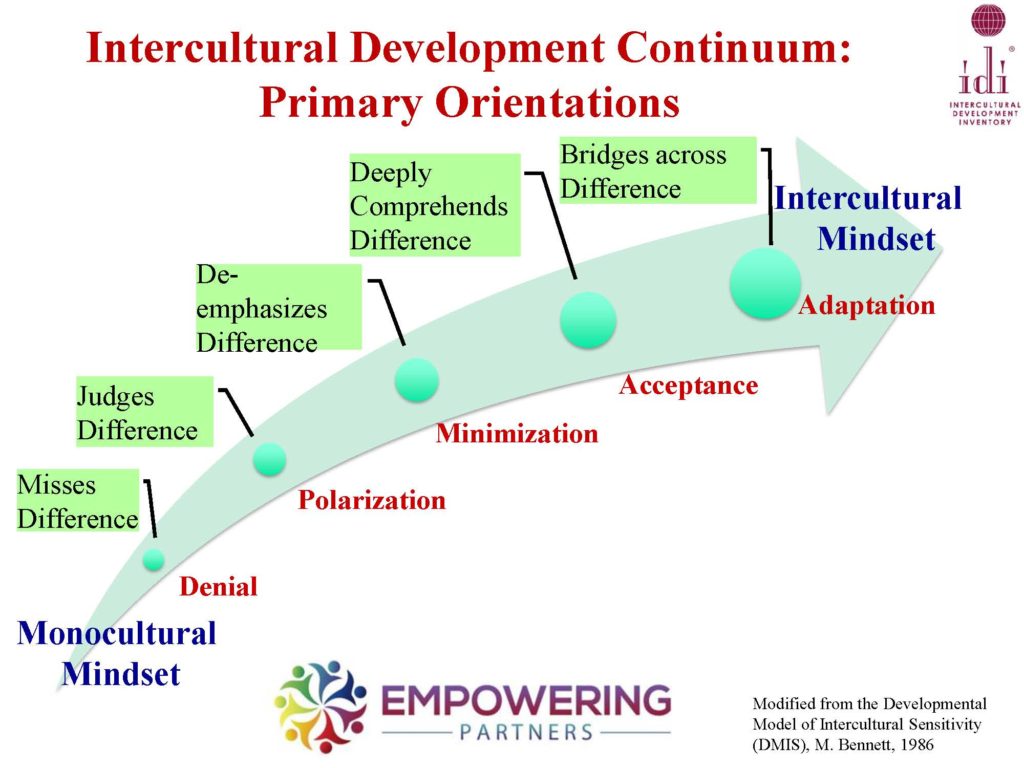 Video
The Workplace Impact of the Intercultural Development Inventory
The Impact of Developing Intercultural Competence
When the people in a corporation have Intercultural Competence—the ability to shift cultural perspective and appropriately adapt behavior to cultural differences and commonalities—a company experiences:
Improved employee engagement;
Ability to hire and retain culturally diverse people
A culture of belonging and safety resulting in increased productivity;
Adaptation of perspective and behavior in cross-cultural relationships resulting in greater innovation;
Increased majority culture self-awareness to promote social accountability;
Broader market share and client diversity;
International business adaptation and job performance;
International transfer of technology and information;
Revenue growth because employees and customers experience safety and trust.