Workshop Series
Empowering Partners' Workshop Series, sets the foundation for organizational cultural shift to jumpstart safe conversations around diversity and social accountability. When participants volunteer to participate, they are even more willing to create authentic relationships, resulting in attraction and retention of top diverse talent and broader market reach. Each of the six practical workshops leads to the next, is collaborative in tone and is designed to meet the audience where they are in their understanding. To attract and retain great people, leaders need to create a culture of belonging. Participants discover how to:
Create a Case for Diversity & Inclusion

Cite examples of how demographics in the U.S. are changing and organizations can benefit
Give examples of why we benefit from diversity and yet still resist it

Outsmart Unconscious Bias

Discover how unconscious bias keeps us blind to others' perspectives
Identify ways to outsmart unconscious bias

Explore Empathy

Discover how the U.S. racial divide was constructed
Learn what people of color aren't saying out loud

Develop Cultural Consciousness

Explore cultural characteristics that help and hinder authentic relationships
Develop communication guidelines that help individuals feel included in the group

Feel Safe to Talk Again

Identify the difference between helpful and hurtful questions
Listen deeply

Notice Systems that Help and Hinder Business

Discover how race and racism were constructed in the United States
Examine majority cultural characteristics and their impact on productivity, collaboration and innovation
Path to Intercultural Competence
Using the Workshop Series as the foundation, Empowering Partners can accelerate the speed at which people and organizations adopt a cross-cultural mindset. Depending on the level of intentional work, an organization can take the Path to Intercultural Competence and within 6-9 months become measurably more culturally proficient, thus improving employee engagement, client diversity, and profitability. The Path includes: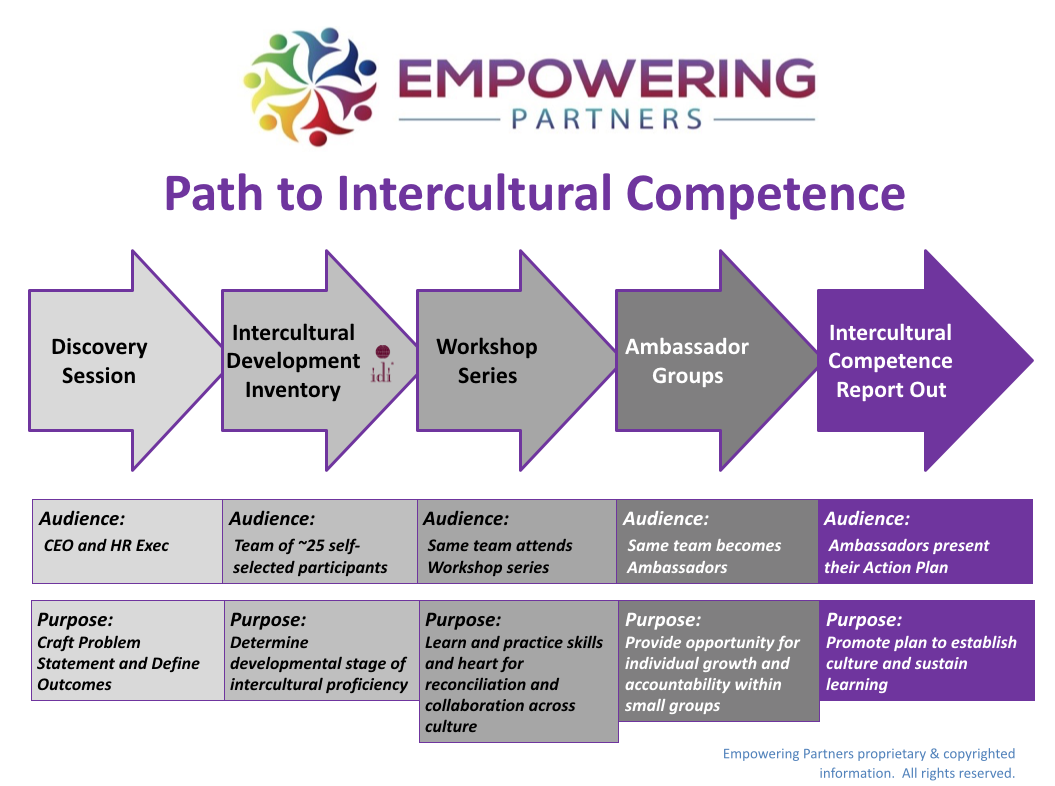 Public Speaking
Empowering Partners creates custom-designed stand-alone Workshops for your organization's needs. For organizations taking first steps into this work, an introductory session can help your participants develop initial skills for successful conversations around diversity and inclusion. Topics are not limited to but can include:
How and Why Listening is Important in Intercultural Relationships
How Do We Have a Conversation About a Topic Nobody Wants to Talk About?
Do I Always Have to Be Politically Correct at Work?
Consulting
Unbounded diverse relationships are critical for business success. A 2015 study of 500+ U.S.-based, for-profit businesses reporting the highest levels of diversity brought in 10-15X more sales revenue and reported higher-than-average percentages of market share (Valleskey). Empowering Partners works one-to-one with organizational leaders to develop a growth plan for increasing an intercultural mindset. We can:
Assess an organization's level of cultural proficiency;
Develop practical skills for cross-cultural relationships;
Increase majority culture self-awareness to promote social accountability;
Advance effective problem solving and conflict resolution skills for more effective team wok; and
Grow revenue because employees and customers experience safety and trust.
Create a Case for Diversity & Inclusion
Cite examples of how demographics in the U.S. are changing and organizations can benefit
Give examples of why we benefit from diversity and yet still resist it
Outsmart Unconscious Bias
Discover how unconscious bias keeps us blind to others' perspectives
Identify ways to outsmart unconscious bias
Explore Empathy
Discover how the U.S. racial divide was constructed
Learn what people of color aren't saying out loud
Develop Cultural Consciousness
Explore cultural characteristics that help and hinder authentic relationships
Develop communication guidelines that help individuals feel included in the group
Feel Safe to Talk Again
Identify the difference between helpful and hurtful questions
Listen deeply
Notice Systems that Help and Hinder Business
Discover how race and racism were constructed in the United States
Examine majority cultural characteristics and their impact on the organization
Name systems that help and hinder employee and customer engagement leading to more effective team problem